Blank, confused.
GREEEEEN

ATTACK!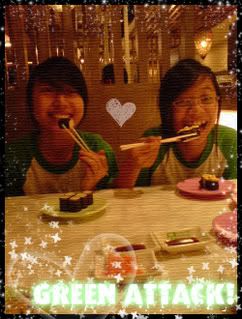 SUSHI~ SHUSHI~ I WANT MORE SHOOSHEEE!

Gna post a short post only, cause.. I dont know what to post xD
After school ytd, me & my besties♥ went t watch '
Money No Enough2
' :D
Starting very funny, ending very touching D:
okay, I did not kenna touched to tears, just eyes watery niah xD
Ziyi
♥ then got touched to
tears
okay! :D
I'm still thinking~Still thinking..
Hmm, DUNT EVER BRING YOUR PARENTS TO OLD FOLKS HOME OKAY!
They love you so much when you're young, so you must treat them back the way they treat you!
So what if they're old? Useless? Without them, you wouldn't be here okay!
Bahhhhh~~
After that, me & my besties♥ went to
Yishun Park
:D
Then black clouds coming already so headed home):
While walking home halfway, it rained!
Like wth! By the time I reach home I'm already so drench!
I missing SUSHIs already D:
I'm gna save plenty of $$ to buy more Sushis at NTUC :D
There is cheaper(;
Haha!
Eh, lemme tell you sthg.
Really important.
Really really important!
.
.
.
.
I WANT SUSHI!!! D:
Eh wait! This sentence very familiar :/
oh yah! It's the tag given by chiobu
JINGWEN
xD
She damn chio okay!(;
Heheh!
out of topic already~~~
PEEPO! DONT FORGET TO TAG! :D
ILU!♥