Ehehehehe i guess my mia-ing of blogging is back again...
i'm just getting lazy to blog about my lifeless and boring life

i finally got some ideas

in making christmas banners yesterday!
so i rushed doing it as i know i'll be busy today and tmr


i only made banners for those that still visits my blog

and keep in contact with me.

For the other readers, you can grab this!
*
click on picture and save
*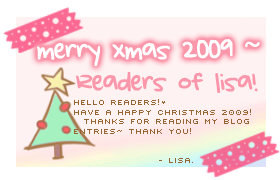 please upload to your own server!

Do not direct link, thank you!
it's christmas tmr!
Are you all excited? Actually i'm not really excited about it since i don't celebrate it christmas
haha.
But if i'm not wrong, i will be having BBQ or something...
Dear santa i wish....
~ 나의 가족 의지 가지다 더 나은 삶
나 할 수있다 말하다 으로 xx ~

please don't bother translating, and if you know what it means, don't say out okay!! Hehe...