Current mood: Sad.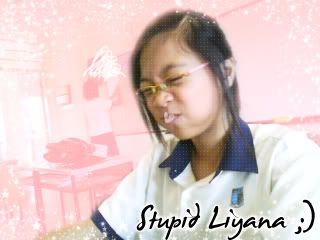 Candid shot by Liyana♥
Urgh,
MR.T
is back! Like wth!
I have to see him now everyday T~T
During his free periods, me, LY♥, NL♥ & Ziyi♥ was chatting & playing like mad lah xD
Then Liyana♥ took my handphone & took a stupid picture of me xD
But I like! :D
If not I would not be putting it up here..
xD
Behind me is Fazlinah♥, Idk what she's doing lah :b
Schools fine, except for
someone
, who is back T,T
I'm gonna buy the same watch as Liyana♥, but it's pink of course(:
I wanna countdown with her :D
& readers, I guess I won't be updating often already, schools are always the same what, nothing to be updated about :p
okay, but exceptional d happens.
So maybe I will update once or twice a week when I am free loh,
& I dont even know what I'm busy about :x
Blogskin changed, find that my own blogskin seems to be very laggy,
so changed to something simple instead :D
But I will change reaaaal soon cause I don't like the skin I'm having right now):
就算你懂,就算你知道,你也不会明白.
机会只有一次,你不珍惜就是你的屁事.