current mood: Sick, over.

To a place,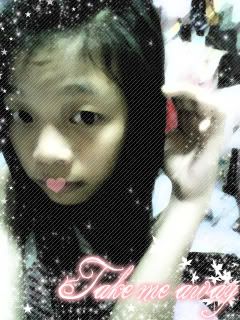 Just U & ME.
Ahhh! Anyone know how t type chinese in
Photoshop7
? D:
I've changed t language bar t
Chinese PRC
liao leh,
but still can't have any chinese wordings coming out):
grrrr
....
Was almost late for school tday, wanted t take taxi with Ah Hui♥ de, but can only sit 4 people.
At that time, there were 5 of us, t
bloody hell
taxi driver dunt allow luh.
Sann♥ was left behind, I sacrificed & waited for t bus with her ;x
& t
bloody hell
bus was packed with stupid people who just wouldn't want t move in.
Me & Sann♥ was left with no choice but t
chiong
t school.
Bloody hell
school that's so
bloody hell
far.
Bloody hhhhhhhhheeeeeeeeelllllllllllllllll!!!
grrrrrrr....
I felt so sick when I reached school, damn no mood.
I was sick & yet stupid Liyan dunt want t lend me her english paper!!!
D:
okay, just joking.
I feel better now, not gna experience that feeling anymore.
Whoever it is, just make me wake up from my beauty sleep lah! D:
I must reach school early tmr!
NO MORE
running!
NO MORE
rushing!
NO MORE
panting!
Am I for real? :/
Hahaha, duh ._.
Today
MR.T
never come t school! :D
Yayness!(: *
My praying works! Did he fell to t drain?
*
Hahaha! KD! xD
After school, bused home with Sann♥, Ah Hui♥, Soph♥, Ziyi♥ :D
oh yah Sann♥! ThankU for your chocolates! :D
KFC-ed with Soph♥ & Ziyi♥ then trained back home ler(:
Everyday is a short & simple day filled with fun & laughters.
I ♥ my friends, do they ♥ me too?
一切将领结束。