Hahas! Hello people :D
I'm still deciding on what to put in the "Calendar" slot. Don't feel like putting dates leh.. Any ideas? Tag me okeh! :B
& I guess most of you all have recieved my gift, hope you all liked it :D
I've just joined "The Mayo Awards" hosted by Mayo.
Not very sure how it goes but it sounds cute!
I've recieved a gift from
Xiaorene
! So kawaii! Heehee, I love strawberries xD Thanks a lot!

Recieved an "Alffiliate" gift from
LMW
too! Cuteness :D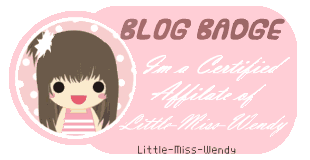 Hmm, a little note to you readers! :D
I will close my blog again on 17th NOV or earlier as I'm going to Thailand :D
Will reopen it on 13th DEC or later, hahas!
Guess I left 15 more days, excitements! xD
When I've come back and reopened my blog, I will definately update my post with pictures.
Hmm, I think I have nothing to say because holidays are so boring! T4E, faster jio me out leh D: Hahas! Will update again when I have something to say :D
If it's just a minor update, refer to my "update" corner, hehs!
I find my blog kinda "nothing" so I'm gonna update my navigations real soon..
Give me some ideas to make my brain produce more creative juices, hahas!
So, bye for now and stay tune! ♥