11 MORE DAYS!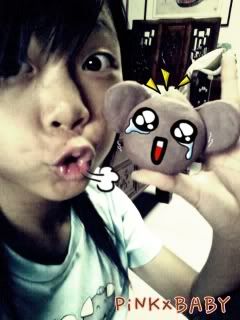 okay, I wanted to make into a
Mickey Mouse
but it turn out to be a BEAR!
Hahahas!
Such lousy skills
, LOL.
Today is my grandma's birthday! So.. Happy birthday mama! :D
Holidays are seriously bored! I am bored, some of you are bored, we are bored, everyone is BORED!
I have been bloghopping to people's blog nowadays :D
Main ones are Agnes, steph known as Kyuusho and Baoling..
My blog idols, hahahaha! I idolised them ALOT. okay, I'm not crazy..
But check out their blog, it's seriously entertaining..
:D
Me & my cyberfriends are creating a blog that will entertain you when you're online!
Say NO MORE to boring holidays!
okay, I sound like a little salesgirl advertising something..
Will post the link soon!
So.. STAY TUNE!♥