Current Mood: Happy ^__^
Yup, it's the first day of school today! Where all students will shout boo at this day

Everyone chionged to their "2008" seatings, the same seatings. Maybe we were too use to it so most of the people didn't change their seatings.
okay, first day of school seems fine to me, but then, standard one.
We have to hear never ending naggings about disciplines and attires

And guess what? I slept during the naggings

Around 1period then got caught by that
obasan
~~ SLOW RIGHT?! Haha.
Actually I have to be disturbed from my sleep because we have to deco our names and paste on the front of our table

Stupid Melvin took away the last piece of pink paper so I had to take light orange!
My
ugly
drawing~ My lazy mode was ON thats why.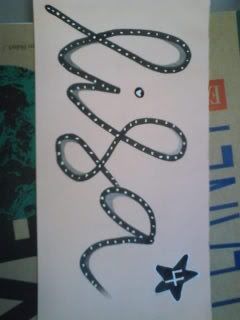 Nothing much during the first day of school :\ Monday
Z
&
P
got
ST.Johns
and I have
Floral
on Tuesday, oh bother.
I made a new button! Pink one
as usual
..
I made the girl's eye blink myself


P/S: I misplaced my Physics Txtbk, I have to find like siao already

P/S: He's damn cuute! I tell you, damn cuuuute! ^____^